Events in and around Southall - London Borough of Ealing
Islamic Event - Jalsa - Shab-e-Meraj-un-Nabi
Date: Mon 24 Apr 2017
Islamic Event - Urdu/English
Jalsa - Shab-e-Meraj-un-Nabi
French Shtick – 'Allo 'Allo
Date: Wed 26 Apr 2017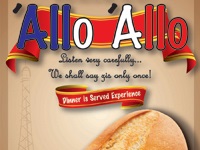 Listen very carefully… We shall say zis only once!
Good Moaning friends. Occupiers. Peasants. Let us whisk you back to war-torn France for an authentic take on an 80s classic.
Safer Southall Conversation
Date: Thu 27 Apr 2017
Concerned about crime in your area?
Want to improve your community?
Have your say.
---
For the archived local news visit the Southall Events Archive.
If you have a local event, kindly share it with the rest of Southall, by using the email.