Events in and around Southall - London Borough of Ealing
Islamic Event - Jalsa - Yaum-e-Sayedna Abubakr Siddique
Date: Sat 25 Mar 2017
Islamic Event - Urdu
Jalsa - Yaum-e-Sayedna Abubakr Siddique(RA)
Main speaker - Hazrat Allama Syed Shah Mujtaba Sahib
Dr Bike health check sessions - Southall
Date: Sat 25 Mar 2017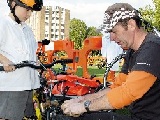 Free health check for your bike.
Learn how to check your bike for roadworthiness and get some cycling advice.
Champions of Magic
Date: Tue 28 Mar 2017
Direct from a hit season in London's West End, the world-class illusionists that make up the Champions Of Magic team return for a spectacular night of mystery that'll keep you guessing.
Valy & Mozhdah Live in London
Date: Fri 31 Mar 2017
Valy Hedjazi and Mozhdah Jamalzadah, performing together live in London for the first time.
Film: Jackie (15)
Date: Mon 03 Apr 2017
Starring Natalie Portman, Peter Sarsgaard and Greta Gerwig
---
For the archived local news visit the Southall Events Archive.
If you have a local event, kindly share it with the rest of Southall, by using the email.