Events in and around Southall - London Borough of Ealing
Islamic Event - Jalsa Seerat un Nabi
Date: Fri 15 Dec 2017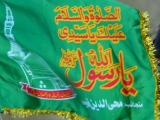 Islamic Event - Urdu - Jalsa Seerat un Nabi & Mehfil e Naaat
Life of the prophet Muhammad (PBUH).
Neil Sands Christmas Memories
Date: Mon 18 Dec 2017
Neil Sands and his brilliant west end cast are back with their 2017 Christmas production which has been described as "like a sparkly Christmas card come to life".
Dick Whittington – A Traditional Family Christmas Pantomime
Start Date: Thu 28 Dec 2017
End Date: Sat 30 Dec 2017
HEOS Musical Theatre present
A Traditional Family Christmas Pantomime
---
For the archived local news visit the Southall Events Archive.
If you have a local event, kindly share it with the rest of Southall, by using the email.