French Shtick – 'Allo 'Allo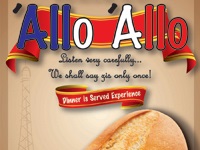 Date: Wed 26 Apr 2017

Time: 7:30pm
Description:
Listen very carefully… We shall say zis only once!
Good Moaning friends. Occupiers. Peasants. Let us whisk you back to war-torn France for an authentic take on an 80s classic. Hilarious entertainment and a great meal await as you are cordially invited to join Madam Edith when she "entertains" over the Camembert.
Say 'Allo 'Allo to a cast of familiar faces in our parody-tribute interactive dinners - served experience.
website: Beck Theatre
Location:
The Beck Theatre,
Grange Road,
Hayes,
UB3 2UE

If you have a local event, kindly share with the rest of Southall, by sending it to us via email.