Greenford Carnival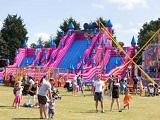 Date: Sat 08 Jul 2017

Time: 12 pm - 7 pm
Description:
For a fun day out with friends and family you can't miss Greenford Carnival.
The whole family will be treated to live music performances, dancing and plenty of food to tempt the taste buds.
Attendees can expect a range of performances and talents for their enjoyment, our main stage will be hosted by Westside radio station, and you can see performances from big names such as, Paigey Cakey and reggae legends, Aswad.
There will also be a wide range of activities for all ages including, a dog show, carnival parade, funfair, plus a wide range of stalls and food from a variety of cultures.
Entry Free
Website:
www.ealingsummerfestivals.com
Location:
Ravenor Park,
Oldfield Road South,
Greenford,
UB6

If you have a local event, kindly share with the rest of Southall, by sending it to us via email.