Amit Kumar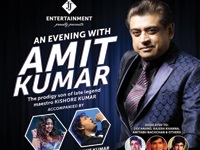 Date: Sun 17 Sep 2017

Time: 7:00pm
Description:
Amit Kumar is an accomplished playback singer and prodigy son of the late maestro legend Kishor Kumar.
His repertoire, much like his famous father includes noted works in film composing, writing, production and direction.
His younger brother Sumit Kumar, has been lovingly mentored by Amitji and is showing every sign of being of same Gharana of Music.
They will be joined by singer Manisha, famed for her live wire stage performances and supported by talented musicians from India.
website: Beck Theatre
Location:
The Beck Theatre,
Grange Road,
Hayes,
UB3 2UE

If you have a local event, kindly share with the rest of Southall, by sending it to us via email.