Stand up to Racism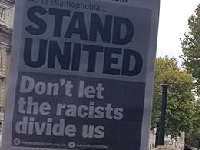 Date: Tue 10 Oct 2017

Time: 7:30 pm - 9:30 pm
Description:
PUBLIC MEETING hosted by West London Stand Up to Racism
Speakers include:
Rupa Huq MP - Ealing Central & Acton
Shabbir Lakha - Stop the War / Stand Up to Trump
Nahella Ashraf - Stand Up to Racism
Kuljeet Singh Dobe - Barrister, Immigration & Asylum
Gary McFarlane - Black Lives Matter activist
SO MANY PLACES around the world are seeing a rise in racism. And there is a disturbing growth in fascism. In this country too, racism is on the rise, particularly Islamophobia but also anti-Semitism and there is a worrying increase in the number deaths of black people in custody.
The horrific death of Makram Ali and injuries to others near Finsbury Park Mosque in June together with acid attacks and increased harassment of Muslim women all show a disturbing rise in Islamophobia in the UK. The government's Prevent programme has further fuelled this racism – giving the green light to the police and authorities to target Muslims.
In addition, the Tories continue to scapegoat migrants and sow division. Theresa May is cynically using three million EU nationals as a bargaining chip in Brexit negotiations. Desperate refugees fleeing war, repression and poverty continue to be left to drown in the Mediterranean or be locked up in detention centres.
It's nearly 20 years since the Macpherson report concluded that the Metropolitan Police were "institutionally racist". Yet black people are still 6.5 times more likely to be stopped and searched than white people in Britain. The cops still think they can get away with killing black people. Come to this meeting to discuss where we should go next in the fight against racism.

website: www.facebook.com/events
Location:
St Mary's Church,
St Mary's Road,
Ealing,
W5 5RH

If you have a local event, kindly share with the rest of Southall, by sending it to us via email.