Diwali Charity Concert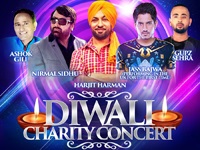 Date: Fri 03 Nov 2017

Time: 6:30pm
Description:
An incredible charity event celebrating Punjabi Music, with one of the most spectacular Bhangra line ups in aid of the Falcon Sports & Community Centre Slough.
Internationally renowned singers Harjit Harman, Jass Bajwa, Gupz Sehra, Nirmal Sidhu and Ashok Gill will be performing with full live band on stage at the Diwali Charity Concert.
website: Beck Theatre
Location:
The Beck Theatre,
Grange Road,
Hayes,
UB3 2UE

If you have a local event, kindly share with the rest of Southall, by sending it to us via email.