Southall Park Funfair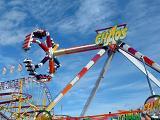 Start Date: Sat 18 Aug 2018

End Date: Tue 28 Aug 2018

Time: 4 pm - 10 pm
Description:
Bob Wilson's Family Fair in Southall Park.
All the fun of Fair for the whole family.
Admission: Free
Opening times:
- 4pm to 9 pm weekdays
- 2pm to 9 pm weekends
Look out for discount vouchers available in shops advertising Wilson's Funfairs.
Worth coming miles to have some fun.
Website: Bob Wilson and Son and on Facebook
Location:
Southall Park,
Southall,
UB1 3DN

If you have a local event, kindly share with the rest of Southall, by sending it to us via email.