Behind the Blue Line - Gurpal Virdi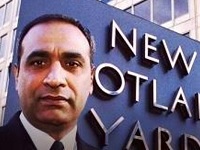 Date: Thu 21 Feb 2019

Time: 18:00 – 19:00 GMT
Description:
On Wednesday 15 April 1998, Detective Sergeant Gurpal Singh Virdi was arrested and accused of sending racist hate mail to himself and ethnic minority colleagues.
Dismissed from the Metropolitan Police Service, his reputation in ruins, Virdi took his case to an employment tribunal, which judged that he had been a victim of racial discrimination. Completely vindicated, Virdi was reinstated to the job he loved – but his travails were far from over. Constantly overlooked for promotion, he realised that by challenging the Met he had effectively ended his career.
Behind the Blue Line is Virdi's deeply shocking account of how one of Britain's biggest institutions brought the apparatus of the state to bear in a campaign to destroy the life of one of its own officers.
Join Local Author Gurpal Virdi talk about his incredible story at Southall Library. Admission is FREE, early booking highly recommended
More details at
www.eventbrite.co.uk
Location:
Southall Library: Dominion Centre and Library,
Southall Library 112 The Green,
Southall,
UB2 4BQ

If you have a local event, kindly share with the rest of Southall, by sending it to us via email.