Southall Rising – Art & Discussion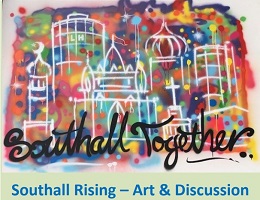 Date: Wed 06 Nov 2019

Time: 6.30 - 8.30 pm
Description:
This is an exciting opportunity to learn about Southall, local anti-racist struggles and the changing nature of the town.
This project between Southall Community Action Group and the Southall Community Alliance uses multiple art forms to commemorate and celebrate Southall, capturing events such as the 1979 uprising against the National Front, as well as reflecting modern day Southall - home to diverse communities since the 1950s.
The event will have a film showing and art works displayed.
The evening will have a discussion panel that brings together
CLARENCE BAKER (Manager of Misty in Roots)
SURESH GROVER (The Monitoring Group)
MEENA PATEL (Southall Black Sisters)
to remember Southall and its notable resistance to racism and discrimination
Cost : £5, including refreshments
For further information please contact Janpal Basran on 07958 499222
Location:
Gunnersbury Park Museum,
Popes Lane,
London,
W5 4NH

If you have a local event, kindly share with the rest of Southall, by sending it to us via email.