Nanak Ayea, Nanak Ayea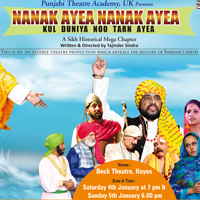 Start Date: Sat 04 Jan 2020

End Date: Sun 05 Jan 2020

Time: Various times
Description:
Written and Directed by
Tajinder P.S. Sindra
Once again, a call of unification arose from Punjab. Then a perfect man awakened Hind (Hindustan) from its dream of ignorance - Dr. Allama Iqbal
Let's all get together to celebrate 550 Saal Apaney Guru Dey Naal
"Nanak Ayea, Nanak Ayea" Kal Taran Gur Nanak Ayea
The Punjabi Theatre Academy (PTA) is a West London based charity organisation registered with the Charity Commission of England and Wales. The Academy is one of the largest Asian arts academies in the UK serving the South-Asian community for more than two decades through acting and drama activities.
To celebrate the 550th birth anniversary of Guru Nanak Dev Ji, we are presenting another Sikh historic chapter through a stage play "Nanak Ayea, Nanak Ayea" live on the Beck stage.
Note: This production will be in a mixture of Punjabi, Hindi and Urdu.
website: Beck Theatre
Location:
The Beck Theatre,
Grange Road,
Hayes,
UB3 2UE

If you have a local event, kindly share with the rest of Southall, by sending it to us via email.