By-election date set for Dormers Wells ward
Fri 05 Oct 2018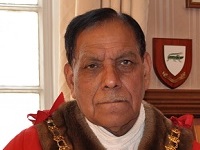 A by-election for Dormers Wells ward will take place on 8 November 2018.
It has been triggered by the sad news last month of the passing of Councillor Tej Ram Bagha, ward councillor for Dormers Wells and a former mayor of Ealing.
Councillor Bagha was first elected as a councillor in 1994 and became the 50th mayor of Ealing in 2014. He lived in the borough for more than 50 years.
Anyone who has moved address or is not on the electoral register needs to complete and return a voter registration form by Tuesday 23 October. You can register to vote online at www.gov.uk/register-to-vote.
Anyone wanting to vote by post needs to complete and return a postal vote application form before 5pm on Wednesday 24 October.
Registered voters will soon receive a polling card in the post containing information on where to go to vote, or whether arrangements are in place for a postal vote. Residents can also find details of their local polling station with Ealing Council's online polling station finder at www.ealing.gov.uk/elections.
Registered voters will cast their votes at the below polling stations:
Golf Links Community Centre (Rear of Alnmouth Court), Fleming Road, Southall, Middlesex, UB1 3PE
North Primary School, Meadow Lane, Southall, UB 2JE
Greenford Park Residents Association Hall, 18 Queens Avenue, Greenford, UB6 9BX
Dormers Wells Play Centre, Junction of Longridge Lane and Edison Drive, Southall, UB1 3JH
Holy Trinity Parish Hall, Park View Road, Southall, UB1 3HJv
---
If you have a local news story, share it with the rest of Southall, by using the contact form.