Pakistan Media UK Cricket Team trip to Pakistan
Fri 25 Jan 2019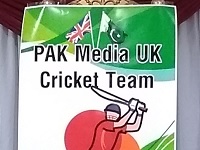 Pakistan Media UK Cricket Team held a Press Conference at Chaudhry's TKC in Southall on Friday 11 January 2019.
After the conference and buffet meal, entertainment was provided by the Pakistani singer Inayat Abid.
Earlier on that day the Pakistan High Commission London gave reception their honour.
Their aim is to promote (international) cricket in Pakistan and the dams construction project started by Chief Justice of Pakistan
Few days later they departed for a 6 day trip to Pakistan, where they played 5 cricket matches while visiting places and meeting with top industrialists, socialites and politicians.
The trip itinerary was as follow:
13th January 2019
Departed from London to Karachi
14th January 2019
Arrived in Karachi
- Visited Mausoleum of Quaid-e-Azam Mohammed Ali Jinnah
- First Match with Karachi Press Club
- Visited Al- Mustafa Medical Centre who provide medical services to the poor
- Dinner with Commissioner of Karachi, top industrialists & socialites
15th January 2019:
- Match with Karachi Gym Khana
- Visited Indus Hospital providing state of the art medical facilities free of charge to the poor
- Departed from Karachi to Lahore
16th January 2019:
- Match with Lahore Press Club
- Dinner with Governor Punjab
17th January 2019:
- Match with Lahore Press Club
- 20:00pm – Sufi Night
- 22:00pm –Lahore to Islamabad
18th January 2019:
- National Assembly Visit session
- Presentation by Deputy Speaker
- Dinner with Interior Minister
19th January 2019:
- 14:00pm – Match with Islamabad Press Club
- 20:00pm – Farewell Dinner with Minister
20th January 2019
- Return Flight on to UK
The Pak Media UK Cricket Team consisted of:
WAJAHAT ALI KHAN - Head of Delegation – Daily Khabrain
A - HAQ – Team Captain – Daily UK Times
SAJJAD SHAWL – Alliance Advertising & Marketing
RANA BABAR – Vice Captain – Freelance
G. H. AWAN – Coordinator – 92 News
GHUFRAN ASHRAF – Daily UK Times
TAHIR ALI – Venus TV
KAUSAR KAZMI – SAMAA TV
MOBEEN CHAUDHARY – ARY TV
AMIR KHAN – Freelance
M. GULISTAN – Urdu Times
YASIR ABASS – VTV
WASEEM KAZMI – 92 News
The Team Officials were:
DALAWAR CHAUDHRY - Chief Coordinator
TAHIR CHAUDHRY – Coordinator – Urdu Times UK
MUSLIM SARBULAND – Team Manager
SHAUKAT DAR – Media Adviser – Dunya TV
S. SHAH – Advisor – Sigma PR & Events
QAISER HAMEED-Al Khair Foundation- IQRA TV
M. IQBAL – Vice Chair Delegation
---
If you have a local news story, share it with the rest of Southall, by using the contact form.