Kashmir Solidarity Day
Wed 06 Feb 2019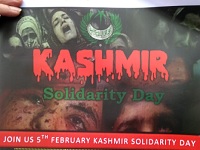 Southall residents went to Downing Street on Tuesday, to raise awareness of the suffering of the Kashmiri people under Indian occupation.
They called upon the Prime Minister Theresa May and the rest of the so called civilised world, NOT to keep looking the other way.
Southall residents gathered near McDonalds on Southall Broadway, for the 11am coach that would take them to Downing Street. This was organised by ex-Councillor Zahida Abbas Noori. People travelled by coaches from all over Britain, from towns like Slough and as far as Blackburn.
Kashmir Solidarity Day, 5th February, is a day to show support and unity with the people of Indian-occupied Kashmir and remember those killed in their ongoing struggle for freedom.
On 26 October 1947, Indian troops invaded the Sovereign State of Kashmir and have occupied it ever since.
UN Security Council Resolution 47, adopted on April 21, 1948, called for Kashmir's future to be decided by the will of the people. Neither India or the UN has delivered on this. The world has FAILED to deliver on its promise to the people of Kashmir for over 70 years.
The following is from Wikipedia:
Indian security forces have been implicated in many reports for enforced disappearances of thousands of Kashmiris, torture or extrajudicial killings.
"Human right activists estimate the number of disappeared to be over eight thousand, last seen in government detention."
"A State Human Rights Commission inquiry in 2011, has confirmed there are thousands of bullet-ridden bodies buried in unmarked graves in Jammu and Kashmir. Of the 2730 bodies uncovered in 4 of the 14 districts, 574 bodies were identified as missing locals in contrast to the Indian government's insistence that all the graves belong to foreign militants."
According to Human Rights Watch, the military courts in India, in general, were proved to be incompetent to deal with cases of serious human rights abuses and were responsible in covering up evidence and protecting the involved officers.
"Muslims are politically, culturally and economically marginalised when compared to Hindus in India as a whole."
View the photos of the protest on
www.facebook.com/VisitSouthall
---
If you have a local news story, share it with the rest of Southall, by using the contact form.