Pakistan Cricket Legends visit Southall
Wed 03 Jul 2019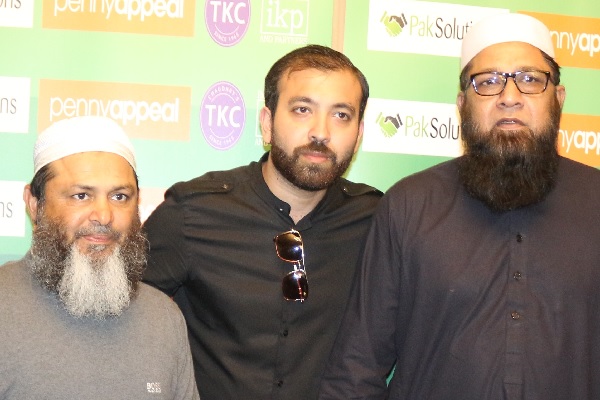 Pak Solutions in association with penny Appeal hosted a charity dinner with the Pakistan Cricket Legends Inzamam ul Haq and Mushtaq Ahmed in Southall.
The event was sponsored by Imran Khan & Partners and Chaudhry's TKC of Southall.
The evening event with a 3 course meal was held at the Fairway Pavilion Banqueting Hall on Tuesday 2nd July 2019 and was fully packed with charitable fans.
The aim was to raise funds to help build Penny Appeal's Orphan Home Complex in Sohawa, Pakistan.
One person was generous enough to promise a donation of £10,000. When a boy raised his hand for a £5,000 donation request, he was asked to come to the stage. This prompted the owner of a company named PMC to offer £5,000 and a promise to help raise another £95,000. A further seven £1,000 pledges were made.
A cricket shirt signed by the current Pakistan Team went unsold. A cricket bat signed by the current Pakistan Cricket Team went for £525. The AbuBakr mosque of Southall donated £1,000 towards the appeal.
There was a Q&A session where Inzamam ul Haq and Mushtaq Ahmed answered some questions and offered advice on what is important in life.
Photos with the legends were taken at the end.
Rameez Raja and Waqar Younis were unable to attend.
Photos of the event are available on www.facebook.com/VisitSouthall.
Do something worthwhile before you die, which can happen at any time. Don't leave it until old age, it may be too late.
"Don't bring death into every topic."
"Don't bring India into every debate." - Inzamam ul Haq
---
If you have a local news story, share it with the rest of Southall, by using the contact form.