NHS Winter Crisis – National Day of Action
Mon 17 Feb 2020
Ealing Save Our NHS campaigners held a protest on Saturday 15 February 2020 to highlight the worst winter crisis recorded so far.
They gathered on the steps of Perceval House, home of the Ealing Clinical Commissioning Group, which holds the purse strings for the NHS in Ealing.
Eve Turner, Secretary of Ealing Save Our NHS said: "Trolleys in corridors are now a regular feature in local hospitals – so much so that nurses and even doctors have had to be designated to staff corridors. The Trusts that run our hospitals have been starved of funding for years and now they are just not coping in some areas."
She added "When more than a third of the most serious emergencies arriving at our A&Es couldn't be dealt with in 4 hours, then we have a major crisis. But that's exactly what happened last month in Ealing and Northwick Park Hospitals."
To highlight the situation, campaigners placed a full size skeleton in a wheelchair, being attended to far too late by an overworked doctor.
The campaigners later marched to Ealing Broadway to distribute hundreds of leaflets to Saturday shoppers.
Campaigner Eric Leach said "We get fantastic support from the public. Despite the huge crisis, there is no management at Ealing Hospital, which is run remotely from Northwick Park. Vital services such as night time emergency surgery are facing the axe. It's Horrifying and immoral."
The protest was part of a national Day of Action, organised by Keep Our NHS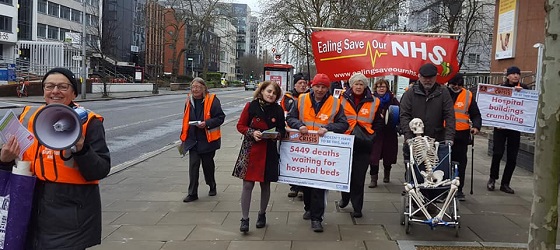 ---
If you have a local news story, share it with the rest of Southall, by using the contact form.