State-of-the-art garden café at Villiers High School
Fri 06 Nov 2020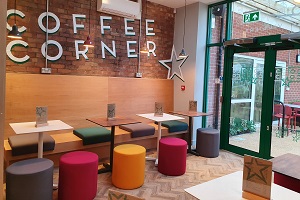 An old boiler room and outdoor store space for bins has been converted into state-of-the-art garden café for staff and Sixth Form students at Villiers High School.
The unique green hub - built during lockdown observing government guidelines – is described as a green oasis in an urban setting with a focus on staff and student wellbeing.
Coffee Corner by Villiers also known as CoCo, offers students and staff the chance to socialise, catch up on work and enjoy drinks and snacks, at affordable prices.
Furniture is made from Eco materials and the area also benefits from outdoor heating. Student art work is displayed in an exhibition space.
The menu was designed following survey of staff and students and offers in house and take away options as well as internal and outdoor seating areas
The café won rave reviews from staff and students, when the Headteacher Ms Aruna Sharma, officially opened it for business today (OCTOBER 19)
Student Ashish Parmar said: "CoCo is a big hit with all the students. It does not feel like you are in school, it feels like a really nice coffee shop.
Student Ardhana Sherin "It is a great place to chat, to hang out with your friends and be creative but also serves really good coffee. As students we feel valued, it has added a whole new dimension to the school. CoCo is so unique, because the outdoor space is so peaceful, productive and so inspirational"
Director of Finance and Resources at Villiers High School Manjinder Bains said: "We have transformed an under used space, into a tranquil coffee hub."
"It is a place that our staff and students can come together to think, create or just unwind in a picturesque green space."
"It has already given much joy and pleasure to the school community and brings to end, another year of successful projects completed."
"We are now planning more exciting projects for 2021-23, this includes the much-anticipated new teaching and learning block, which will further enhance the school facilities to the world class level."

Before - an old boiler room and outdoor store space

After - state-of-the-art garden café for staff and students
Left to right Director of resources Manjinder Bains, headteacher Aruna Sharma, student Ashish Parmar and student Ardhana Sherin1
---
If you have a local news story, share it with the rest of Southall, by using the contact form.