'Stampede' at The Famous Punjabi Mela
Sat 14 May 2022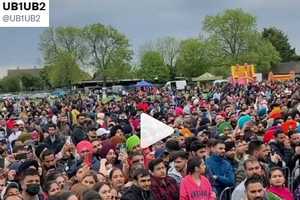 The Famous Punjabi Mela was held at Norwood Hall grounds in Norwood Green on Sunday 1 May 2022.
Some of the artist that appeared included Garry Sandhu, Jazzy B, Arjan Dhillon, Nimrat Khaira, Mankiral Aulakh, Kambi Rajpuria, Raman Parwalia and RD Gill.
Videos by UB1UB2 show that thousands of people watched Jazzy B and other artists perform at the family event. It was mostly a happy music festival.
---
But there were some unsavoury scenes as well. As there was a £10 entry fee there was a security fence around the event. Videos online showed hundreds of people just pushing to get in.
The video by UB1UB2 with the caption "Over 500 people just forced their way into Southall Mela" shows lots of young noisy men waiting outside the boundary fence. Some starting to jump over the fence helped by others. They were pushing against the fence and the entrance gate.
Eventually those manning the gates were forced to open the entrance gate and to let the crowd pour in. This included woman with young children, who were just behind the rowdy young men.
---
In a statement Sri Guru Singh Sabha Gurdwara said: "We are shocked by the scenes in Norwood Green this evening. Alcohol fuelled violence, public urinating, smoking on Gurdwara owned property."
"The event was not organised by the Gurdwara. It was held on fields owned by Ealing Council. We had lodged our objections for exactly these reasons."
"Norwood Hall playing fields are not a music venue, and must never be used for such an event. Any gurdwara members attending, were there in their own personal capacity." Some people might still be confused about on whose property the event was held from the statement "smoking on Gurdwara owned property" and in Norwood Hall grounds. The event was held on Norwood Hall playing fields that are owned by Ealing council and the Gurdwara has to provide access to it via the Norwood Hall site.
---
If you have a local news story, share it with the rest of Southall, by using the contact form.