Penny Appeal heads to Southall for 'Love Thy Neighbour' community work
Thu 07 Jul 2016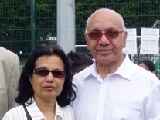 This Saturday, international humanitarian charity Penny Appeal will be heading to Southall to support the community in a day of sports and health activities.
As part of the Southall Community Sports Day, organised by the Southall Community Alliance, the charity will be bringing 'Penny', it's very own double-decker bus, and providing nutritious meals to vulnerable members of the community.
There will be activities on offer throughout the event, with many local services present to highlight the information and support available in the area.
There is also a football competition and the Ealing Mayor and MP will be handing out the trophies.
The community sports day takes place on 9th July at Spikes Bridge Park, West Avenue UB1 2AP from 10am to 4pm.
The Southall Community Alliance was established in December 2000 and is an umbrella network of 100+, mainly small and new, community groups working in Southall.
The fun packed community sports day aims to promote health and wellbeing in Southall.
Come and join in the FREE fun activities during the day, including:
Healthy living stalls
Community 6-a-side football
Yoga and Pungra Dance
Free raffle (prizes include mountain Bike, sports equipment, trip to Isle of Wight etc)
Kids activity zone
Health walks, running, tennis coaching, tug-of-war....much, much more!
International humanitarian charity Penny Appeal bus at Southall Community Sports Day event
Ealing Southall MP Virendra Sharma on 'Penny'
---
If you have a local news story, share it with the rest of Southall, by using the contact form.