Ealing recycling rates up by six per cent in under a year
Thu 16 Feb 2017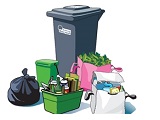 The council is thanking residents for their continued hard work in helping the borough improve its recycling rates, which have risen by six percentage points since the alternate weekly collections service was launched in June 2016.
The latest figures show the council is meeting its target of recycling more than 50% of the borough's household waste by 2018. Recycling rates have increased to 51.41%, up from 45.35% in 2015-16.
The tonnage of food waste recycled from homes across the borough has seen an increase of 54% compared to the same period last year, with 4676.74 tonnes recycled between June and January.
The council changed the way household waste is collected last June, making it easier for residents to recycle. As a result of the changes, paper, plastic tubs and bottles, metal tins, foil, cans, glass, cardboard and much more can now be put straight into the blue wheelie bins without sorting. These are collected on alternative weeks, with rubbish stored in the black wheelie bins collected fortnightly, with green food waste collected every week.
Councillor Bassam Mahfouz, cabinet member for transport, environment and leisure said: "Thank you to everyone who's doing their bit to help us boost our record breaking recycling rates in the borough."
"The council remains committed to helping households recycle more and to do their part for the environment. These latest figures show that by working together with residents we can make a real difference."
Residents can check their collection day and find out what they can recycle at www.ealing.gov.uk/bins.
Residents are also reminded that to recycle batteries and textiles, items should be bagged and placed on top of, or next to their bin.
Green food waste bins can be ordered at
www.ealing.gov.uk/reportit
.
---
If you have a local news story, share it with the rest of Southall, by using the contact form.