Anger and opposition to A&E closures
Sat 18 Feb 2017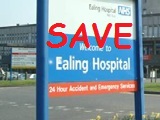 There was standing room only as hundreds of residents came to Wednesday's public meeting on NHS proposals to downgrade Ealing and Charing Cross hospitals to 'local hospital' status which would result in the loss of the A&E service in both hospitals.
Approximately 500 Ealing residents voiced their opposition to the proposals at the meeting chaired by Councillor Hitesh Tailor, Ealing Council cabinet member for public health. The audience applauded the leader of Ealing Council, Councillor Julian Bell, when he confirmed that Ealing Council would continue to oppose the NHS 'Shaping a Healthier Future' programme of hospital reconfiguration.
Invited speakers included Hammersmith and Fulham leader, Councillor Stephen Cowan, London Assembly Member and local GP, Dr Onkar Sahota, James Guest from Healthwatch as well as Eve Turner from the Save Our NHS campaign.
Ealing Council has opposed the NHS 'Shaping a Healthier Future' programme of hospital reconfiguration since it was first announced in June 2012. Under the programme A&Es have already been closed at Central Middlesex and Hammersmith hospitals as well as maternity and children's A&E services at Ealing Hospital.
The NHS published a business case in December 2016 that shows blue-light ambulances, critical care and potentially all surgery removed from Ealing Hospital by 2022. The NHS would then implement plans to downgrade Charing Cross to 'local' hospital status. As part of its plans the NHS aims to save more than £1billion over 10 years.
Both Ealing and Hammersmith & Fulham councils say they are determined that Ealing and Charing Cross should remain District General Hospitals with their A&E and operating surgeries and so have refused to sign up to the north-west London sustainability and transformation plan (STP).
Cllr Julian Bell, leader of Ealing Council said: "I would like to thank all those that turned out. Another packed meeting hall clearly shows how concerned and appalled local residents are at what is being proposed."
"We all love our NHS and we know that once it's gone it will be hard to get back. We've already lost vital facilities at Hammersmith and Central Middlesex and warned at the time we would see extended lengthy waiting times and risk peoples' lives. And now north-west London has some of the worst waiting times in the country."
"Under these plans our district general hospitals will be closed and replaced with day care and urgent care clinics. We won't accept the con that the NHS are retaining our A&Es. They are in effect closing Ealing hospital as we know it."
"Three London boroughs – Hammersmith, Ealing and Brent – will be without an A&E. That represents a population the size of Leeds that won't have access to an A&E but a walk-in clinic run by GPs. This is crazy and the fight will continue."
---
If you have a local news story, share it with the rest of Southall, by using the contact form.