Villiers reaches Regional Finals of Mosaic Enterprise Challenge
Sun 12 Mar 2017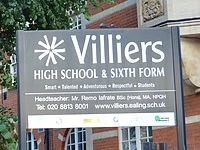 A team of budding entrepreneurs beat off tough competition to reach the Regional Finals of Mosaic Enterprise Challenge this week.
Pupils from Villiers High School, Southall, will take their place among the top young business minds in the South East of the UK at the Slough Aspire Centre later this month (22 March 2017).
Joyal Mathukutty, Daniyal Aftab, Amritpreet Singh and Sukhdev Sohal made it through after recording a top score in an online game designed to test business acumen.
For the next round, they have come up with a recycling in school's initiative they will have to pitch to a panel of business expert judges.
Daniyal said: "For us it was all about team work. Each one of us had a different skill that we could bring to the game.
"The next step is very exciting. We have been taught at this school that to do anything you have to have perseverance.
"Yes, there are going to be knock backs but if you keep trying good things will happen. We are all really looking forward to the next round."
Joyal added: "This has been my first real world experience of the business world so I am really looking forward to trying to helping the team make their mark. "There is no reason why we can't go on to win this regional final and go all the way to the Grand Final. We have a good team and we believe in each other."
Head of Business Studies at Villers High School Celinda Gill said: "This is an absolutely fantastic achievement for our pupils. They really exceled at the online game scoring higher than any previous students.
"It is really fantastic to see these students truly engaged in this subject and being passionate about projects.
"The next stage is very exciting because they will get the opportunity to pitch their idea to a panel of business people. We all have our fingers crossed they make it to the Grand Final."
Winners of the Grand Final get £2500 prize to start their business and ride in a luxury helicopter.
/
---
If you have a local news story, share it with the rest of Southall, by using the contact form.