Film: La La Land (12A)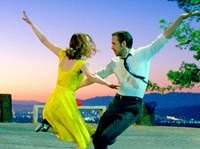 Date: Mon 20 Mar 2017

Time: 7:30pm
Description:
Starring Ryan Gosling and Emma Stone
The Golden Globe winning La La Land follows the entwined stories of Mia, an aspiring actress who serves coffee between auditions, and Sebastian, a jazz pianist confined to playing the hits in dingy bars.
A breathless, life-affirming romance begins between the two of them, and they're happy for the first time in a long time.
La La Land is a glorious Hollywood musical that received universal adoration on the festival circuit.
website: Beck Theatre
Location:
The Beck Theatre,
Grange Road,
Hayes,
UB3 2UE

If you have a local event, kindly share with the rest of Southall, by sending it to us via email.