Islamic Event - Jalsa Seerat un Nabi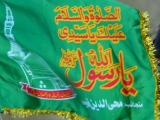 Date: Fri 15 Dec 2017

Time: 7:30 pm
Description:
Islamic Event - Urdu - Jalsa Seerat un Nabi & Mehfil e Naaat.
Renowned scholars of Islam, Hazrat Allama Maulana Muhammad Siddique Akbar will speak about the life of the prophet Muhammad (PBUH).
Dr Rashid Zia Naeemi and Khalifa Tahir Shahib Uddin will deliver their speech in English.
Other guests include Hafiz Ghulam Mustafa Qadri of QTV.
Originally event date was 16 December 2017.
Date cahnged to 15 December due to clash with another local event.
Naat khawans will be present.

Muslim brothers and sisters are cordially invited to attend.
A separate area will be provided for ladies
Food will be provided at end of programme.

Website: Jamia Masjid - Southall
Location:
Jamia Masjid Islamic Centre,
103-105 Townsend Road,
Southall,
Middlesex,
UB1 1HE

If you have a local event, kindly share with the rest of Southall, by sending it to us via email.