Know Your Waste Responsibilities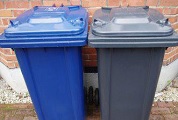 Date: Mon 06 Aug 2018

Time: 12-7pm
Description:
Local people urged to know their responsibilities when it comes to waste disposal
Ealing Council is launching a major campaign to highlight how rubbish and bulky waste should be disposed of correctly in shared housing, HMOs (houses of multiple occupation) and flats.
By raising awareness of the law for both tenants and landlords, the council aims to curb the rubbish and household items ending up on the borough's streets as unsightly and illegal fly-tips.
To mark the start of the campaign, the council is hosting a 'Know Your Waste Responsibilities' event at Ealing Town Hall on Monday 6 August which will provide advice and info on waste management in HMOs.
Residents, tenants, landlords, estate agents, letting agents and housing associations across the borough are invited to attend and find out information about their legal responsibilities around waste, and how they can help the council crack down on illegal disposal and fly-tipping.
There are a numbers of rules in place to ensure that waste items, bulky appliances and rubbish are got rid of correctly.
Landlords of flats, HMOs and privately rented properties are required by law to provide facilities for waste storage for tenants to dispose of household waste. They also must take responsibility for waste items left by departed tenants and dispose of them responsibly.
It's never acceptable to leave waste items or bags of rubbish on the street or in a public area. The council's specialist enforcement teams crack down on fly-tipping by investigating and fining perpetrators.
Landlords and tenants of HMOs are both urged to know their responsibilities and ensure they avoid large fines and even prosecutions by disposing of rubbish properly.
Location:
Committee Room 1,
Ealing Town Hall,
14-16 Uxbridge Road,
Ealing,
W5 2HL

If you have a local event, kindly share with the rest of Southall, by sending it to us via email.