Fundraising dinner for WLIC
Date: Sat 05 Oct 2019

Time: 6:30pm to 11pm
Description:
UKIM Relief warmly welcomes you to an evening of inspiration with famous Urdu and Punjabi poets Anwar Masood, Amjad Islam Amjad, Imran Partapgarhi and Rehman Faris, from Pakistan and India.
Your ticket to this community and family-friendly event will include a delicious three-course meal and funds raised will support our charity work in UK.
Tickets £10
Don't delay, book your ticket today.
Register at www.ukim.org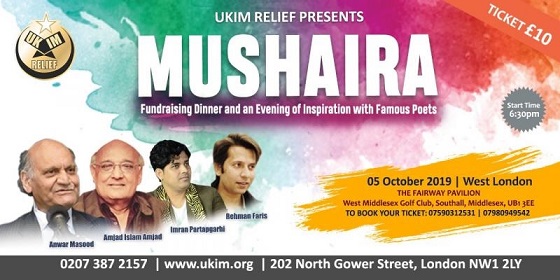 Location:
Fairway Pavillion,
West Middlesex Golf Club,
Greenford Road,
Southall,
UB1 3EE

If you have a local event, kindly share with the rest of Southall, by sending it to us via email.