Islamic Event - Mehfil e Milad un Nabi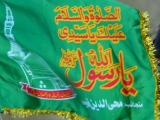 Date: Sat 24 Oct 2020

Time: 7:45 pm
Description:
Islamic Event - Urdu - Mehfil e Milad un Nabi and Yarmi Shareef
Invited scholar of Islam will speak about the life of the prophet Muhammad (PBUH).
A shorter program due to safety measures in place for the coronavirus.
Note: Ladies, men over 70 and children under 12 should NOT attend due to corona virus precautions.
Food will be provided at end of programme.

Website: Jamia Masjid - Southall
Location:
Jamia Masjid Islamic Centre,
103-105 Townsend Road,
Southall,
Middlesex,
UB1 1HE

If you have a local event, kindly share with the rest of Southall, by sending it to us via email.