Southall Nagar Kirtan update
Mon 30 Oct 2017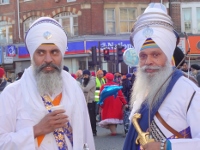 The annual Southall Nagar Kirtan (procession) celebrating the Parkash Ustav (Birthday) of Guru Nanak took place on Sunday 29 October 2017.
Worshippers gathered at the Sri Guru Singh Sabha Gurdwara on Havelock Road in the morning.
Before the procession started, there were short speeches by Ealing Southall MP Virendra Sharma, London Assembly Member Dr Onkar Sahota and other dignitaries at the front of the gurdwara.
The colourful procession set off at around 12:30pm, late as usual, and proceeded along King Street, The Green, South Road, High Street, Green Drive and finished at the Park Avenue Gurdwara.
Thousands of Sikhs attended or paraded through the streets of Southall.
At the front of the procession you have young and very young Sikhs showing off their martial arts and other skills assisted by the loud drumming.
The procession itself is led by the " Panj Pyare'' (five beloved ones) in their traditional attire. In front of them are 5 flag bearers.
This is followed by the main float, which carries the Sri Guru Granth Sahib (Sikh holy book). Crowds move forward to pay their respects.
It is always a trouble free event for all the family. All those attending are calm, considerate and in a happy mood. The procession route is covered with food stalls serving FREE food, fruit and drinks from 10am to everyone. For some food you have to queue up and for others it is handed to you as you walk along.
Pavements and roads from King Street to the Broadway are packed full of people. At the peak, it is impossible to move in any direction due to the sheer number of people for about 4 hours.
Due to the size of the procession and already congested Southall roads the Police advise against travelling through Southall on such occasions.
There are road closures and traffic diversions in place on all roads along the procession route. The road closures commence after 10:00 am and continue until after 6pm. There is normally no traffic along South Road all the way to King Street for most of the day.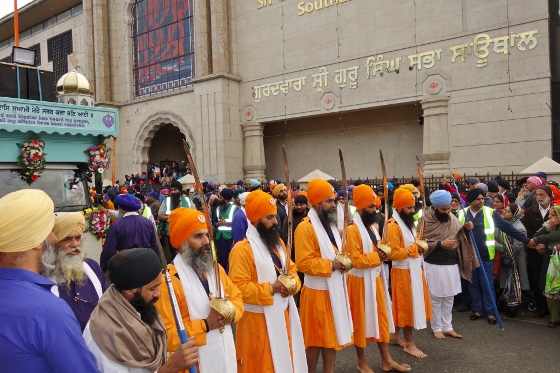 ---
If you have a local news story, share it with the rest of Southall, by using the contact form.