Warehouse fire in Southall
Tue 26 Nov 2019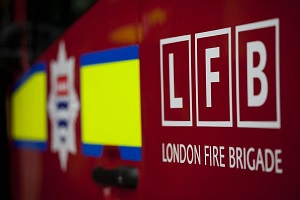 Around 75 firefighters were called to a fire at a derelict warehouse on Kingsbridge Crescent in Southall.
The Fire Brigade was called at 7.35pm on Sunday, 24 November 2019 and fFire crews from Southall, Northolt, Ealing, Hillingdon, Hayes, Heston, Barnet, Acton, Wembley and Beckenham attended the scene.
Nearby residents were advised to keep their windows closed due to smoke from the fire and the Police closed many roads in the area.
Firefighters remained at the scene throughout the night dampening down the area. About half of the ground floor and half of the first floor and roof were damaged by the fire. Firefighters worked extremely hard to prevent the fire from spreading to nearby buildings.
"While we slept, they worked tirelessly through the night to stop the fire spreading." – Tom Bennett. The fire was under control at 00:39 on Monday, 25 November 2019.
The cause of the fire is under investigation.
---
If you have a local news story, share it with the rest of Southall, by using the contact form.