WBO Super Welterweight European Champion comes to Southal
Wed 18 Dec 2019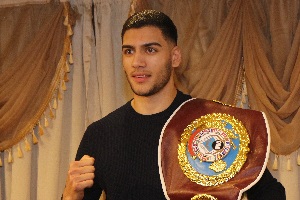 Boxing fans were invited to meet new WBO Super Welterweight European Champion Hamzah Sheeraz at Chaudhry's TKC in Southall.
The event took place on Friday 13th December 2019 at 7pm at Chaudhry's TKC on Southall Broadway.
20 years old British Pakistani boxer Hamza Sheeraz won the title on Saturday 30th November 2019 in Birmingham. He impressed with a sixth round victory against Ryan Kelly to claim the vacant WBO European Super Welterweight title.
Hamza and his team were happy to talk to their fans and answer any questions. Hamza was a true sportsman and was happy to be photographs with every one of his fans.
After the event Hamza and his team, fans and the press were treated to a free food courtesy of Chaudhry's TKC on Southall Broadway.
It was a "free entry event full of good times, good people and good food".
---
If you have a local news story, share it with the rest of Southall, by using the contact form.