Peaceful Southall protest for George Floyd
Fri 05 Jun 2020
Southall Collective organised a peaceful (static & socially distanced) protest outside Southall Town Hall on Wednesday afternoon 3 June 2020.
The "Stop the killings: kneel for George Floyd" protest was organised show solidarity with the US anti-racism protests and others globally.
Even Ealing Council "lit the (Ealing) Town Hall purple in solidarity with our Black, Asian and minority ethnic (BAME) communities right around the world, remembering George Floyd".
Considering the facts that people are afraid to go out to gather in groups and that Southall has very inactive and disillusioned residents, the turnout was very good.
Rheian Davies , Legal Aid Lawyer of the Year 2011, said "You have to love Southall. Cars (drivers) sat patiently while we occupied the main junction in the high street and knelt for George Floyd."
"Speaker after speaker spoke of the experience of BAME people in this country, led by the indefatigable Suresh Grover (of the Monitoring Group)."
Listen to this little girl speak 'We saw a black man being killed on the TV by the police. Thank you everyone here for caring about black people. It doesn't matter what colour you are, it matters how kind you are and the respect that you show.'
"Let's not just be inspired by this little girl, let's do something about it, this time. Let her not be speaking in 20 years time, on the same steps about another George Floyd."
Georgefloyd #BlackLivesMatter #SayHerName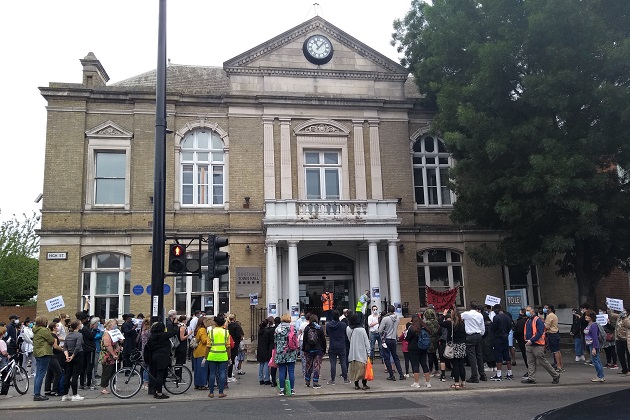 ---
If you have a local news story, share it with the rest of Southall, by using the contact form.