Southall Gasworks Air Quality of Meeting of 16 July 2020
Sun 26 Jul 2020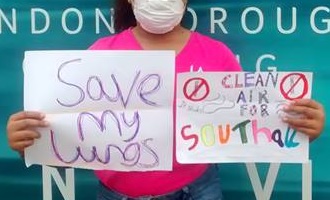 Clean Air for Southall and Hayes (CASH) hosted an online meeting on 16 July 2020 calling on Ealing Council to implement an action plan to protect the lives of Southall residents
Air pollution from Southall Waterside has damaged the health of residents for the past 3 years.
Berkeley Group is spending money left right and centre in trying to woo over the local Southall community. Yet the people who are suffering by their actions are being totally ignored.
The previous public meeting about the Southall Gasworks Air Quality took place on 10 July 2019, at the Dominion Centre, Southall, to listen to residents' concerns about the Southall Gasworks Development.
At that meeting Karl Whiteman, Executive Director of Berkeley Group introduced himself as Damian Leydon, Operation Director at Southall Waterside. Why would any normal human being do this at a public meeting?
Is Damian Leydon, Operation Director at Southall Waterside, any better? His words to a concerned resident were - You want air quality monitors in your home. Of course Berkeley will provide them.
But at the public meeting his words were more like - Ooops, I opened my mouth too soon. I can't give you a valid reason for not keeping my word because I am merely senior management, so I will let a technical person respond.
That meeting did not alley any resident concerns as no one took any responsibility for anything and merely passed the buck to others. Even the Public Health England (PHE) representative did not understand the meaning of "independent" monitoring.
Has anything changed since July 2019?
No one in authority has given any thoughts to independent monitoring of dangerous substances being emitted from the Southall Waterside. Nobody in authority is coming up with any ideas.
These have ALWAYS needed to come from the residents who are suffering. Berkeley Group and Ealing Council keep telling residents that there are no dangerous chemical being emitted. If that is so, why would Ealing Council or Berkeley group NOT allow TRULY independent monitoring that would satisfy the residents.
Oh, we could ask Berkeley if they would consider this. It took 3 years for people in authority to recognise this, after demands by residents. No wonder progress has been slow.
Julian Bell stated that the soil remediation work stopped in March 2019. Yet the nauseous was still occurring when a public meeting was held in July 2019. The nauseous is still occurring in July 2020. What is going on? Julian Bells told residents that there will still be pockets of nauseous smells from the Waterside even after all the remediation work has stopped.
Julian Bell also said that reports of nauseous smells from the Waterside development have come down since the March 2019. He provided the statistic. They show NO decline. Most residents stop reporting when no action is taken by the council. The council, in its own word, has taken no action against Berkeley. Yet, the reported numbers have not declined.
Councillor Julian Bell has complete confidence in Atkins, the air quality data monitoring company, employed by Berkeley Group. The residents do not. In fact, the residents have no confidence in Ealing Council.
Ealing Council says that residents have no evidence that the nauseous smells are coming from the Waterside development and therefore the council is unable to take enforcement action. They are not bothered about short term affects as there is no proof of long term affects.
Is suffering for 3 years, a short term affect? That is 3 years of breathing difficulties, worsening of asthma, nausea, dizziness, eye irritation, irregular heartbeats, migraines, skin rashes, chest infections, memory problems and a sensation of "internal burning".
Everyone knew that contaminated soil would be dug up and it would cause problems. Why look to deflect the blame elsewhere? There will be pockets of nauseous smells from the Waterside for years after the soil treatment has stopped, according to Julian Bell.
Ealing Council will be putting up monitors when the gas holder works starts in the next few months. Good. Really? Not really because those monitors will be ordinary air quality monitors and these won't detect the dangerous chemical being omitted. So what is the point of those monitors? Has nothing been learnt from the last 3 years?
"I sat in my garden last night and the wafts of petrochemicals from Southall Waterside made me sick."
"Is it ever acceptable for developers to gas people in their own homes, and if so for how long before you consider that it is a nuisance?"
Is 3 years long enough?
---
If you have a local news story, share it with the rest of Southall, by using the contact form.