Council wants your views on anti-social behaviour zone
Mon 25 Jul 2022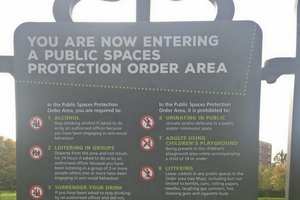 Ealing Council wants to consult with residents about renewing the existing borough-wide public spaces protection order (PSPO) which helps the police and council officers to combat anti-social behaviour.
A PSPO gives the police and the council officer extra powers to tackle specified behaviours that are persistent and unacceptable.
Such behaviour in public spaces may include street drinking, fly-tipping, littering, verbal abuse, obstructing the highway, illegal drug use, urinating or spitting.
---
The fine for breaking a PSPO is £100. If the fine is not paid, court proceedings can be started, which can increase the fine up to £1,000
The existing PSPO, introduced in 2019, expires in September and the Ealing Council wants your views before renewing it.
Council leader Peter Mason said: "Keeping our communities safe and tackling anti-social behaviour is one of our top priorities. Healthy communities cannot thrive if they are blighted by the actions of a few selfish people who won't respect our borough and those who live here."
Councillor Raza, the council's cabinet member for tackling inequalities, added: "We always welcome the opportunity to hear from residents and visitors of the borough to let their views be heard. This, ultimately, gives the council a greater understanding to improve the lives of our residents."
---
Residents can take part in the online consultation by 6 September 2022. The decision on renewing the PSPO will be taken in September 2022
You can take part in the online survey here.
Having the PSPO powers and not using them has detrimental impact of the quality of residents lives. This could be due to lack of police and council officers. It could be due to the hours they operate. It could also be due to other unsavoury reasons.
Surely almost daily ASB behaviour, at night, at a known spot can be dealt with? Nothing has been done to improve the lives of residents living near Hamza Pan on Southall Broadway.
Why not? There is no real desire by officers at Ealing Council to do so. They are NOT affected by the ASB.
---
If you have a local news story, share it with the rest of Southall, by using the contact form.