Warning about people knocking on your door
Fri 01 Jul 2016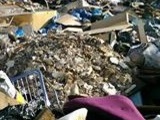 Ealing Council has received reports of people without waste transfer licences knocking on doors in the local area offering to clear waste and DIY from people's houses.
Regardless of the assurances that these people might give, they WILL be dumping this waste in local parks, rivers and green spaces. They cannot take your waste for legal disposal without a waste transfer licence.
Householders are legally responsible for dumped waste and both the people dumping the waste and the householders where the waste originated from are liable for prosecution.
If anyone knocks on your door offering to do this, you can check whether they have a licence by calling the Environment Agency on 08708 506 506 or by using the online register at www.environment-agency.gov.uk.
This is what one resident said: "I got conned by them a while back. They simply dumped my old cooker on the other side of the street - right in front of my house. Beware - they won't take it far - might just dump in your street."
The photo is a reminder of the 160 tonnes of illegally dumped rubbish left at Warren Farm earlier this year.
---
If you have a local news story, share it with the rest of Southall, by using the contact form.