Pakistan Cricket captain visits Southall
Tue 15 Aug 2017
Sarfraz Ahmed, Captain of the Pakistan cricket team, visited Southall on the eve of Pakistan's 70th year of Independence Day celebrations.
He graced his presence at Chaudhry's TKC in Southall with his family and friends. He thanked Dalawar Chaudhry for TKC's hospitality to the team given during the ICC Champions Trophy.
On his first visit to Southall he said "I'm grateful to TKC and the community who supported Pakistan". He went on to say that he wanted to carry on the long tradition (of other Pakistani cricketers) visiting TKC in Southall and thank them for their valuable support.
"I'm enjoying the ambience, atmosphere and the hospitality. It's hard to tell the difference between Karachi and Southall".
Dalawar Chaudhry of TKC said "It is a source of pride and pleasure to be visited by Captain Sarfraz Ahmed to celebrate Pakistan's 70th Independence Day.
Sarfraz is an ambassador and his achievement in steering Pakistan to victory was a momentous and historic occasion".
During his late and brief visit to the restaurant he was happy to have selfies taken with his fans of all ages.
Chaudhry's TKC are the official caterers to the Pakistan Cricket in the UK.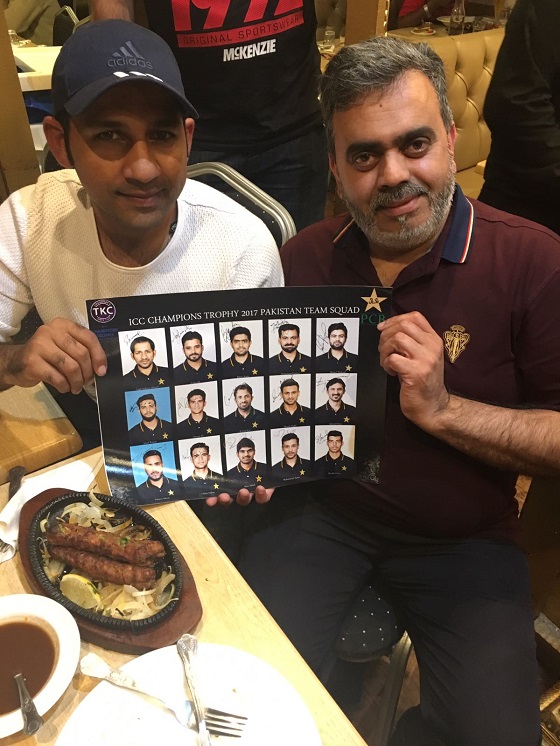 ---
If you have a local news story, share it with the rest of Southall, by using the contact form.