Guru Nanak: Badley Jamaney De Badaldey Rang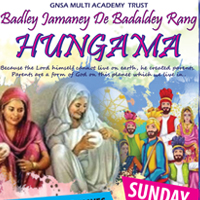 Date: Sun 01 Mar 2020

Time: 2 pm
Description:
An evening full of entertainment for the whole family with bhangra, giddha, comedy and dance.
Including a surprise guest performance.
website: Beck Theatre
Location:
The Beck Theatre,
Grange Road,
Hayes,
UB3 2UE

If you have a local event, kindly share with the rest of Southall, by sending it to us via email.