Local history talk at Blair Peach Primary School
Sat 07 Oct 2023
Janpal Basran, Director of Southall Community Alliance, and Suresh Grover, Director of Monitoring Group, visited Blair Peach Primary School to engage with Year 6 students and discuss Southall's anti-racism movement during the 1960s and 70s.
On 5th October 2023, the children participated in a community quiz, followed by a discussion and a question-and-answer session with Suresh. Their questions were thoughtful and showed a good level of understanding of the historical events, especially those surrounding 1979 and the tragic death of Blair Peach.
They would like to extend their gratitude to Mark Barrett and his colleagues at Blair Peach School.
---
As a result of our school visits to discuss local history, we've had the privilege of assisting students in creating badges that commemorate the concepts and historical knowledge they're acquiring.
Here's a selection of the beautifully creative badges crafted by students from Blair Peach School.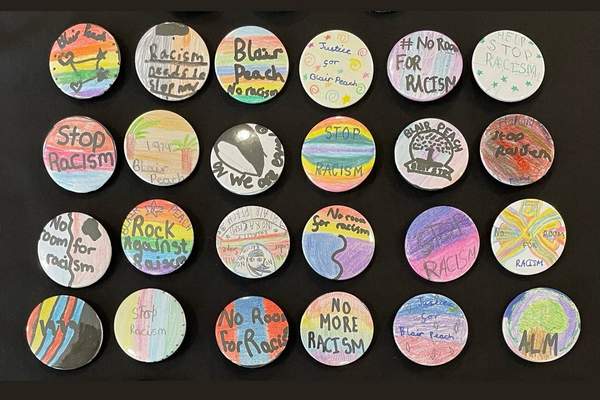 ---
Food growing in Southall
One of the key objectives of the Western Road Urban Garden project, managed by the Southall Community Alliance, is to cultivate food that can be utilized to support families experiencing food insecurity.
Here is a photo of Andre and Barry with a selection of vegetables that they subsequently distributed to families in need.
By the following year, as they reach full capacity, they aspire to produce substantial quantities of fresh food that they can share within the community.
---
If you have a local news story, share it with the rest of Southall, by using the contact form.